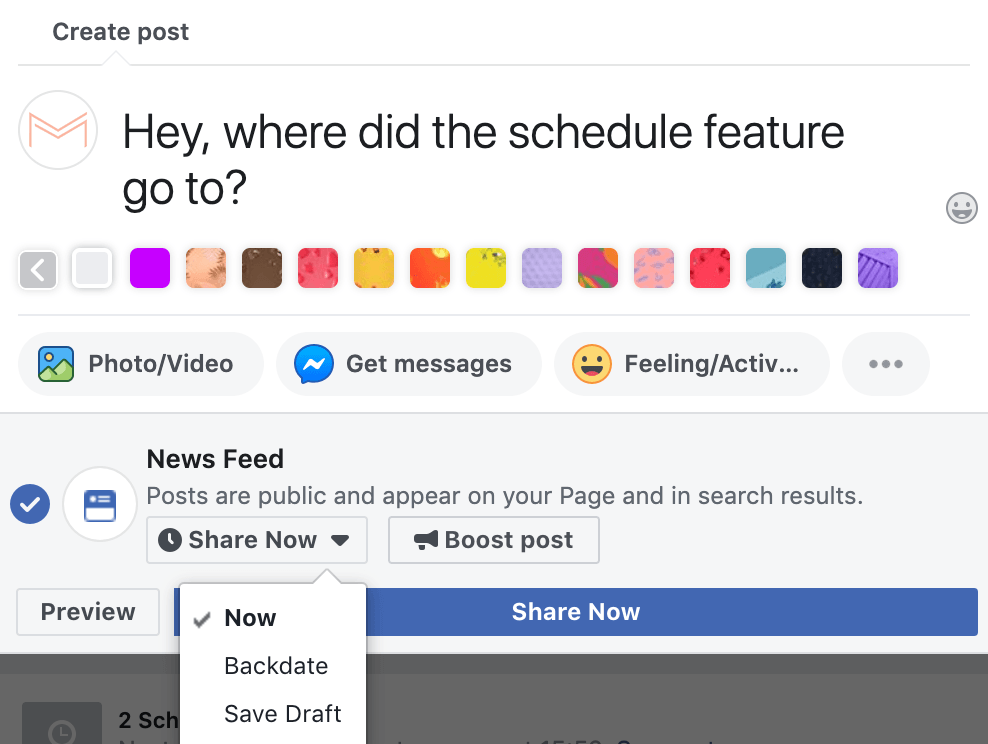 During the past week, I've noticed that many pages no longer have the schedule feature on their Facebook Pages. I also saw many social media managers chatting about it online and received some requests myself from people needing assistance with scheduling their content.
I have checked the pages I manage and noticed the same thing. If you're not using a tool like Hootsuite and scheduling directly from Facebook, this is going to be frustrating.
I am hoping it's just a glitch (because why would Facebook remove such a useful feature on their Facebook Pages) but if not, here's other ways to natively schedule posts on Facebook without using paid for tools.
---

Facebook Creator Studio
There was some talk within the Power Hitters Club that the removal of scheduling posts from the page publisher was intentional.
The reason: To get people to use the new Creator Studio.
I love Facebook Creator Studio, especially because I can use it to schedule Instagram posts from accounts that I am not managing in Hootsuite.
You can also use Facebook Creator Studio to schedule your Facebook Posts.
---

Facebook Publishing Tools
The easiest way to schedule Facebook posts is to click on Publishing Tools (found on the top bar) and then click on Scheduled Posts.
You can use this feature just as you would schedule directly from the page.